MEMBER NEWS FROM CLUB QUARTERS
New Club Quarters to
Open in London Early 2012
Club
Quarters will open a fourth London hotel – Club
Quarters, Lincoln's Inn Fields at the beginning of 2012. It is located
at Kingsway near Holborn in the heart of London ("Midtown") and
close to Covent Garden and the theatre district.
The
Hotel will have unique features including an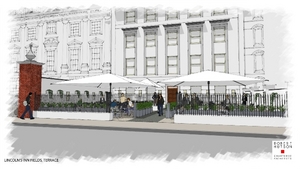 outdoor terrace
facing Lincoln's Inn Fields offering dining and bar services throughout the
day. Adjacent to the terrace will be the Club Living Room with social
networking and business center areas.
Guestrooms will have a new look for London, a progression from the very
popular Club Quarters, World Trade Center in New York. Standard rooms will
have an "activity center" designed for working, dining, or
relaxation and incorporating the latest in-room technology.
Like all Club Quarters, most services are complimentary: Internet access,
business center, printing, bottled water, coffee and tea, newspapers,
launderette, and even exercise equipment in the room. Guests at all Club
Quarters earn "Night on the House" certificates each stay after
the first one and now can earn a $100 savings bond.
As is our practice, memberships are first offered to existing
members.  As memberships will be filled quickly in London, please let
your Membership Managers know before October of your interest in membership
at Club Quarters, Lincoln's Inn Fields. Alternatively, you may contact
Kathleen Curran, Director of Memberships, United Kingdom at +44
207-451-5901 or via email kcurran@clubquarters.com.
The room rates will be exactly the same for this brand new facility as our
London City hotels.
Accepting reservations
in September 2011 for arrivals in 2012
9/11
Memorial Site Opening Opposite Club Quarters, World Trade Center
Club Quarters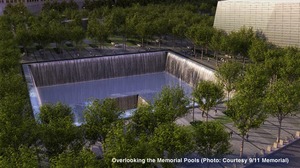 , World Trade Center
will host employees and guests of member organizations who wish to visit
New York to participate in the 9/11 Memorial Events in September.  The
hotel overlooks the Memorial Site which will be dedicated on Sept. 11, 2011
in a special ceremony for victims' families. The Memorial opens to the
public on Sept. 12, 2011.
Call Member Services for advanced reservations at 203-905-2100.
Visitor passes to the Memorial site must be reserved in advance at http://www.911memorial.org/visitor-passes.
Photography: one of two
reflecting pools at the 9/11 memorial site.
New
York Fall Season: Reserve Early at all (4) New York Locations

Fall is
peak season in New York.
Club Quarters, World Trade Center: Located
opposite the Freedom Tower and newly opened 9/11 Memorial, as well as
the World Financial Center, Club Quarters, World Trade Center is within
walking distance of major financial institutions.
Club Quarters, Wall Street: Located near the
New York Stock Exchange and all major financial institutions, Club
Quarters, Wall Street books quickly during the Fall season when many
companies are announcing third quarter earnings.

Club
Quarters, opposite Rockefeller Center: Located on West 51st Street
just off Fifth Avenue, employees and guests of member organizations are
within walking distance of major corporations on Park Avenue, Fifth Avenue
and Avenue of the Americas.  The 7th Floor Terrace Club has
unfettered views of Rockefeller Center.
Club Quarters, Midtown: Located in a
landmarked building on West 45th Street between Fifth and Sixth
Avenues and within walking distance of Grand Central Station and Times
Square – as well as the Theatre District, Fashion Avenue, major office
buildings and "Restaurant Row" – on West 46th Street.  Home
to the Midtown Executive Club,
the hotel is suited for small and business meetings.
Low  member rates
are always honored as long as rooms remain available – even over peak city
wide event dates including the following:
9/11 Ten Year Memorial
Events: September 4-11, 2011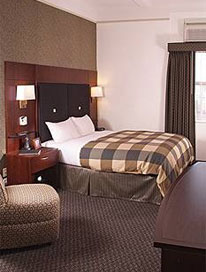 New York City Fashion
Week: September 8-15, 2011
World Business Forum
2011: October 4-7, 2011
Web 2.0 Expo New York:
October 10-13, 2011
International Fine Art
& Antique Dealers Show: October 21-27, 2011
New York City Marathon:
November 5-7, 2011
Rockefeller Center Tree
Lighting: November 30, 2011
Complimentary Meeting
Room Available to Member Organizations Through September 30,2011
Members
who plan their next offsite meeting at Club Quarters will be offered a
complimentary meeting room* for a full or half day with no required
purchase of food and beverage. Your low member room rates are always
available for meeting attendees.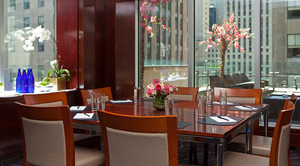 To
check availability, please call Member Services at
203-905-2120 or click here. If there is someone else
in your organization who arranges meetings, please click here to Forward
this message to a friend.
*Valid for
US locations. Available for new meeting reservations only.  Limit one
per member. Offer expires September 30, 2011.
Always
Complimentary for Members

 

Included in your low fixed member rates, our complimentary services provide
significant overall savings.

–
– –

– Free broadband/WiFi  Internet
access                                   –
Fitness Room access

– Unlimited
chilled purified bottled
water
– Launderette onsite

– Computer access and
printing                                                   –
Guest Request Closet with extra amenities

– Member guests earn a "Night
on the House" –
Coffee and tea available

each stay after the first stay and can now earn

a $100 savings bond
CLUB QUARTERS
The Smart Hotel for the Sensible Traveler
Rockefeller Center,
Wall Street,
World Trade Center,
Fifth Avenue/Times
Square, NYC
Trafalgar
Square, St.
Paul's Cathedral, Bank
of England/Gracechurch, London
White House,
Washington DC  Downtown
near Faneuil Hall, Boston Liberty Place,
Philadelphia
Central Loop,
Chicago  Wacker at
Michigan, Chicago
Downtown
Houston Embarcadero
Center, San Francisco
Lincoln's Inn Fields
near theatres and Covent Garden, Central London (opening
2012)